Facilities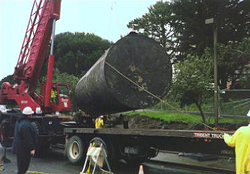 CE provides a variety of Field Services with the primary emphasis on Quality and Customer Service handling regular and specialized projects for our customers. Chow Engineering excels in the following Field Service areas:
Facilities and Equipment Decontamination
Special Hazard Management [Lead/PCB's/Mercury/other]
Piping Installation, Inspection, and Demolition
Tank Cleaning, Management, and Removal
Wastewater and Groundwater Treatment Design and Installation
Excavation and Earthworks
CE has recently concluded projects for decontamination of UST's, pesticide storage facilities, clean-outs of 10,000 gallon tanks, removal of toxic gas piping, excavation of oil/gas separator and the closure and upgrade of HF and acid neutralization systems. Our customers include Fortune 100 Automotive, Semiconductor, Petroleum and Gas Distribution companies as well as local, established companies in need of a complete, high quality Field Service solution.